tech
Published on May 1st, 2012 | by Kev Adams
0
Facebook Offers are live in the UK!
I'm hoping to see some creative and compelling uses of the new feature to make it worthwhile checking in to Facebook places while I'm out. It's very easy to set up an offer and simple for a user to accept and redeem as they just need to show the offer email that was sent when they clicked to claim.

To create a new offer click on the "Offer" link on the page, upload a thumbnail image to show it off, then add a headline, expiry date and terms.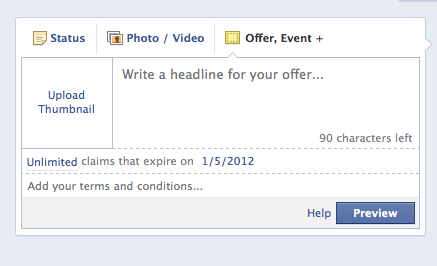 Just click on an offer to claim and you'll get an email to show to the business. Refreshingly simple ツ
More from the official Facebook help link