tech
Published on March 16th, 2011 | by Kev Adams
1
Foursquare, Facebook Places and Location Based Social Media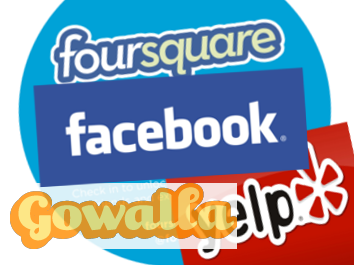 I've been meaning to write about this for a while because it's what's getting me enthused at the moment. Yes really, I have to be careful on this one as I know it's not everyone's cup of tea but take a quick look and see if you get it? If you do you're getting a glimpse of the future believe me. It can't happen soon enough for me either. I want crowd sourced local information out there whenever I hit a new town or area. And I'd love to find out where the best places are to eat, drink or catch live music.
If you're a social business like a cafe, restaurant, pub, club, hotel, gym, any business that acts as a social hub, then time spent looking at promoting your business using location based social media will probably be time well spent. It's relatively free advertising after all, the only cost being your own time or employing someone to get you up to speed and online. Once you're up and running it's crowd sourced local intelligence that will power your online presence. It'll be well worth offering tempting deals to get people in there in the first place and loyalty deals to keep them coming back, but it shouldn't take too much time to manage.
Which one is best?
No one would bet against Facebook coming out top here eventually, although plenty of the other location based sites and applications out there have their own merits. Right now in the UK my favourite is probably foursquare.com. It's fairly easy to set up and claim your own business on there and a doodle for smart phone users to use and checkin. Games aside (and who really cares about being the mayor of your local) it's a great way to find local food, nightlife and more, including tips and deals. Foursquare is enormous in the U.S. and that's usually a pretty good indicator of where we're heading. BUT Facebook are in the game now. Foursquare had a good head start in the U.S. but it's been slower to take off here. Facebook deals are rolling out so that checking into Facebook places you should soon see deals in your area. And let's face it Facebook have the numbers already, to use foursquare you have to hope that smart phone users will download the app. Most smart phones already come with Facebook installed and most customers will already be using it.
If you want a Facebook presence then you need a business PAGE not a user account pretending to be your business. Look for your Facebook place when people have been checking in and claim that too, you can merge it with your page too if you already have one.
Applications to look out for also include http://gowalla.com/, http://www.yelp.com/, game based http://scvngr.com/ and the BIG player now on the block too http://www.google.com/places/. Google places have been around for a while but they've been increasingly adding social features and now include location based checkins too.
Whichever one wins out it's exciting times ahead.