tech
Published on January 6th, 2011 | by Kev Adams
0
Facebook "Most recent" Newsfeed update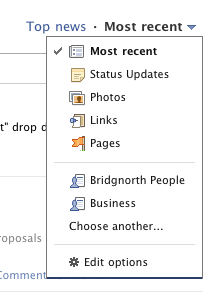 Facebook has got a whole lot more useful with the new "Most recent" drop down on the Newsfeed page.  Mark Zuckerberg claimed that one of the driving factors behind the late 2010 update to groups was because people didn't like keeping lists.  This seems to contradict that slightly as the latest update really comes into its own if you keep lists of friends.
Go to your Newsfeed page, click on "Most recent" and you'll see the drop down.  You can choose, Most recent, Status Updates, Photos, links, Pages or if you have them set up lists.  If you didn't make any lists yet just go to "Account >> Edit friends" and set one or more up.
It makes it a lot easier to keep track of groups of friends, family, specific pages, whatever makes sense to group together to stream in your News Feed.  I love this feature and have wanted it for a while now. Next I'd really like to be able to send status updates, photos, links or videos to specific lists too. Or better still set privacy options more finely grained according to lists. Diaspora aspects time again?